*Please note - Even though the finances in this section are displayed in GBP(£), the user guide applies to the EU & USA also.*
Coacha's Money Dashboard helps to simplify your club finances, enabling you to display cash and card payments together in one easy-to-use and understand interface.
Your payments, whether processed by Stripe/GoCardless or recorded using Coacha's virtual cash tin, can then be exported into an Excel spreadsheet for your records. Choose to download reports over a given time period, or on an individual member basis.

To download a financial report, head to 'Money' in the main navigation and click 'Reports'.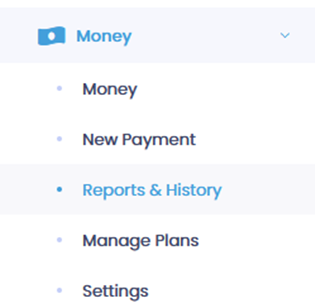 To download a financial report based on a specific time scale, member, amount, type of payment or timescale, use the filters provided and then click the blue search button.
Coacha will then pull the relevant payments together into a spreadsheet for you to download. Click 'Export' and follow the instructions in your browser to open the report.