*Please note - Even though the finances in this section are displayed in GBP(£), the user guide applies to the EU & USA also.*
What makes Coacha's finance facility different to so many others on the market is its ability to record both Card and Cash payments, all in one easy to use interface.

To make a manual payment record, head over to the "Money" section in the main navigation and select "New Payment".
Then navigate to the far-right column entitled 'Record a cash payment'.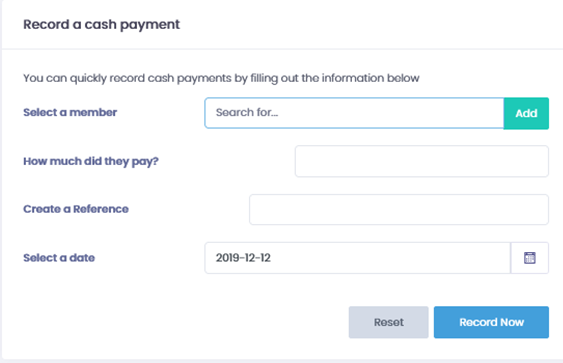 From here, you can start completing the relevant details. Start by typing the member's name, selecting it from the list and clicking 'Add'.
Then you can add how much they paid, create a reference and select a date for the payment.

Click 'Record Now' to save the payment against that member. The payment will then show in your Money Dashboard and the member's payment history.