As well as providing information about your club's overall performance, Coacha keeps track of individual members' attendance, so you can see at a glance the percentage of classes attended by any given member.

To view member level attendance records, head to 'People' then 'Your Members' in the main navigation.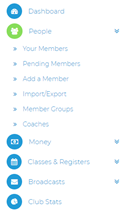 Find the relevant member profile, either using the search bar provided or in the list below, and click 'Profile'.


When in the member profile, make your way to the 'Attendance' tab. Here you'll see an overview of that members' attendance, including the days on which they were present, the total percentage of classes they have attended, and the names of the classes which they attended.