If you're wanting members to input themselves into Coacha, you're in the right place. Firstly, you need to generate your club signup form link. To do this you need to head to Club Settings in the black navigation bar on the top right-hand side.


Head to 'Create a signup form for your club' right underneath the Club Settings.


Ensure the 'Tick to create my club form' box is ticked.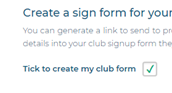 Click 'copy' next to the link. This will copy the link to your dashboard.


If you need to add terms and conditions/waiver documents as attachments to the forms, click the blue 'Upload PDF Document' button and select a file from your computer.


You can then then share this link via text, social media, your website etc.
Once completed, the members will go into a Pending Members section which you can access by heading to People > Pending Members in the navigation.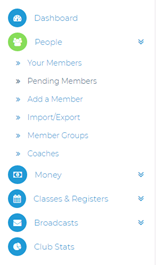 You can then choose to individually accept your members by clicking 'accept' or mass-accept all members by clicking 'accept all'. This will then accept them into your club and present them amongst the other members in Your Members.


You'll also get a pop-up on logging in to Coacha informing you that you have pending members.