*Please note - Even though the finances in this section are displayed in GBP(£), the user guide applies to the EU & USA also.*
In order to view those within a Subscription Plan, you'll need to navigate through the main navigation to Money > Manage Plans.

Here you'll see a list of plans that are set up. If the plan has an active member(s), there'll be the ability to view those members on the right-hand side of the plan by clicking 'Members'.
This will show you an active list of members in that plan. If you need to cancel a member, find the member in the list and click 'Cancel Sub'.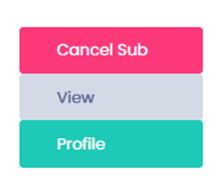 Remember that this can't be undone!