*Please note - Even though the finances in this section are displayed in GBP(£), the user guide applies to the EU & USA also.*
Coacha's subscription feature enables you to bill your members on a weekly, monthly or yearly basis, so it's never been easier to keep on top of your club's finances.
If you haven't already done so, the first step is to ensure you're Coacha account is linked to Stripe, and then you'll need to set up your subscription plan.
Once you've got that taken care of, you just need to assign the subscription to a member. To do so, head over to the "Money Dashboard" under 'Money' in the main navigation.
From the four quick links at the top of page, click 'New Subscription'.
Three options will display, you'll need the first option for 'Subscriptions'. Now it's time to assign your members to the correct plan. Simply start typing the member's name in the first box under step one and select them from the drop down.
If you want to assign more than one member at a time, click 'add multiple members'. A box will pop up and you can start typing the extra members' names and click 'Add This Member' when complete. Repeat the process until all members are added and then click 'Save'.
Then move on to step two, select the appropriate plan from the drop down.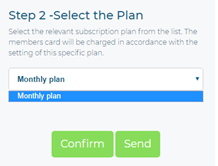 Once you've done this, you can either setup the payment there and then or send a payment request. To take the payment now, select 'Confirm'.
This will give you a summary of the payment you're about to set up – check over this and if you're happy, click 'Pay with Card'.

You'll get a popup asking for card details – fill these in and click 'Pay' and you're good to go.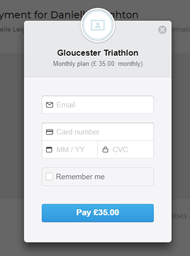 To take a payment request, once the plan is setup, and members are assigned, click 'Send'.
Now you can sit back, relax, and wait for the subs to come rolling in!