*Please note - Even though the finances in this section are displayed in GBP(£), the user guide applies to the EU & USA also.*
Setting up Payment Plans and Subscriptions in Coacha will enable you to automatically bill your athletes so you'll never have to hear "I've forgotten my subs" again!
To get started, head over to the "Money" section in the main navigation and select "Manage Plans".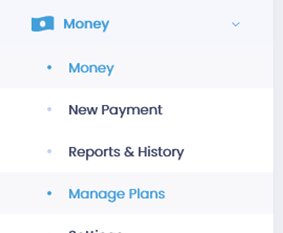 Here you will see a list of the plans you've already set up. Head to the 'Create a new payment plan' section.

Now all that's left to do is enter the details of your subscription. Give it a name, assign a billing frequency and tell Coacha which day or date you would like to collect your subscription.

Note: each payment processor's payout times will vary, but payouts usually occur a minimum of 2 working days after the payment charge date (the date you set your subscription up for). This may affect your decision of which date to choose. Click here to read more about payout timings for each provider.
Note: If you create a Stripe plan and then decide you'd like to use GoCardless, you'll need to recreate the plan changing the service.
When you're done, just hit "Create this plan", and you should see it appear with the list of plans ready to use.