Coacha now has the facility for you to manage virtual or online classes for your members. This feature means you can announce when your online class will start, invite selected members (or the whole club ) and rest assured that everyone who needs to know about the class will be told.
This feature works with any live video, streaming, group or broadcast service where a URL is provided for the members to view the session.
NOTE: We recommend using YouTube Live video for presenting virtual sessions with a chat facility. But any service with a join URL (link) can be used with this feature!
What does this feature allow you to do?
This Feature will allow you to easily and quickly invite your members to join a virtual or online session from your preferred streaming service.
The system will automatically send an invitation email to your members when you create the class.
Coacha will automatically remind your members that a session is coming up - 15 minutes before the start time, to maximise those who tune in!


STEP 1 : Create your Live Stream Link
Create your Live Stream or event in the software of your choice then grab the 'share' URL
and copy it somewhere safe - you will need it shortly.

STEP 2 : Log in and head to Virtual Classes
Log into your Coacha account and navigation to : Classes & Registers > New Virtual Class


STEP 3 : Fill in the session details.
Complete the information on Step1 of the class settings. When you are finished -
Hit "Invite your Members"
STEP 4 : Set your class to recurring
You can set you class to be recurring using the recurring class feature. This will mean that every time a recurring class is due to start the memebers added to that class will be informed.
STEP 5 : Invite your members
Select the member you would like to inform about the class. You can select everyone in
a member group, individuals by name, or the entire club using the search facilities at the
top of the section.
When you have selected your people they will be turned green and highlighted in the
summary to the right.
You will also see a full summary of the class.
To complete setup simply hit - "Create" and your virtual class is all set!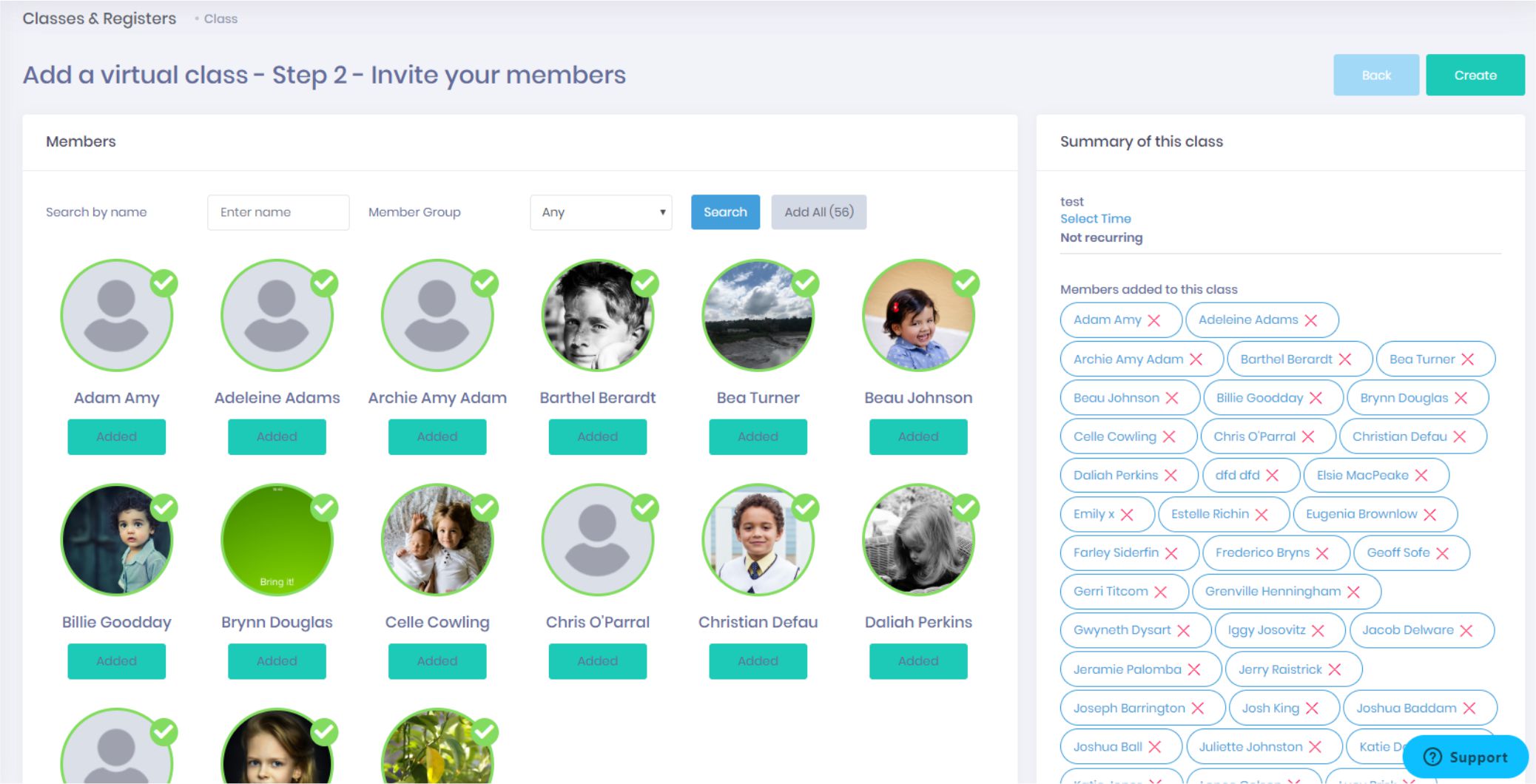 If you need any further help don't hesitate to get in touch with Coacha Support. :)