As a club or organisation owner you may put on summer camps or courses, that last several sessions, or provide blocks of training. Coacha will allow you to precisely and quickly set up these events.

You can set all of the training sessions in a course or camp and also allow members to book onto these courses with one payment. Let's look at this great feature from Coacha.


Creating a Course
The first step is to set up your course. If you have used the Classes feature, this is very similar, but there are a few small differences.
Step 1 - Head to the "Courses" section under your "Classes & Registers" and select "New Course"
Step 2 - Fill in the Course Information.
The Course System allows you to enter multiple sessions at different times on different days. So if you run a summer camp that runs every weekday at the same time, but then also on weekends at different times, all of these can be entered.
Start by naming your course and adding relevant descriptions: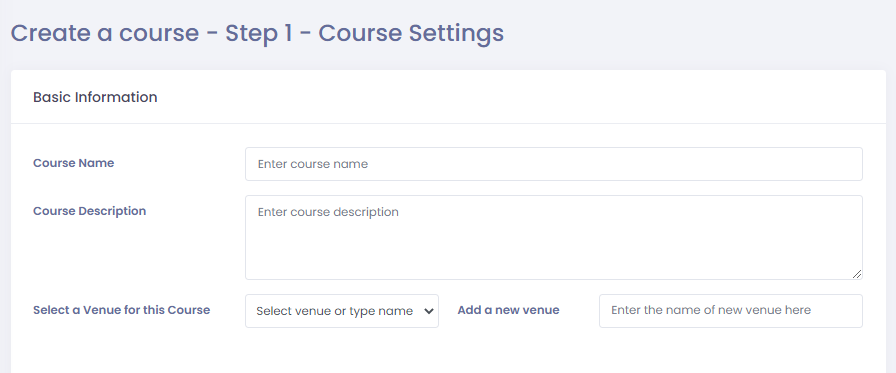 To add the sessions that make up the course, create them using the following method.
Set your start date for the sessions you want to add
Set your start and end time for the session
Set any recurrences of the session
Hit "Add Sessions"
You will see your sessions appear above this area
Then you can add more sessions, and adjust, or edit them, as you see fit
Once you have created all of the sessions that will be present in the course, you can move on to setting up the Booking Options for your course:
Select whether a member is able to book the course (some courses may simply be available for all without booking)
Define the maximum amount of people that can attend your course
Select PAYG if you would like your members to book onto the course with a payment
Enter the price of your course and the methods of payment
You can restrict your course to specific portions of your club by defining which member groups are able to book the course
Chose if you would like to enable your cancellation policy message for anyone that books on but may later cancel



If you have members that will be coming to the course who do not need to book then you can add them on directly and they will be automatically added to the course register.
IMPORTANT : - Don't forget to hit SAVE at the top of the course settings page to save your course and all of your changes.
You're all set. Your course has been set up!


Step 3 - Inviting your members to your new course.
Once you have set your course up, it will appear in your members available classes and courses in the club schedule (if the course hasn't been marked as only for a specific member group). They can go ahead and book the course directly at any time by logging in to Coacha on a web browser.
If you would like to inform your membership of the upcoming course, you can now do it with our unique automated invite! Here's how:
Hit the "Invite" button next to your course in the "Your Courses" section
You will see that this creates a custom broadcast including a link to the relevant course for members to book
Edit the broadcast if you would like to, then proceed through selecting who to send the broadcast to, then finally send. For a guide on how to send broadcasts click here.

Everything's now set up and you are ready for your members to begin booking your new course!
Note: Course bookings will be available in the apps soon.