You can now book sessions with coaches through your Coacha Login in just a few clicks.
It really couldn't be simpler to book some time with your favourite coach. In this guide we will let you know how...
Step 1 - Log into Coacha
Your Coacha login is always the best way to manage your data and bookings. Head to:
Then use your email address and password to log in (if you don't have a login yet, speak to your club admin).
Step 2 - Click on "Book a session with a coach"

Step 3 - Select the coach you would like to book a session with
Select the Coach you would like to get a timeslot with, then hit NEXT STEP (note: only coaches with available timeslots will show up in this section).
Step 4 - Select a Timeslot
On this step you will see a Calendar. All of the green squares are dates when the coach you have selected has free timeslots.
Click on the date you would like the session, then you will see what times are available.
Hit 'SELECT' next to the timeslot you would like to book.
Click NEXT STEP to continue
NOTE : depending on your screen size, the timeslot may appear below the Calendar - so if you cant see it, scroll down a bit. :)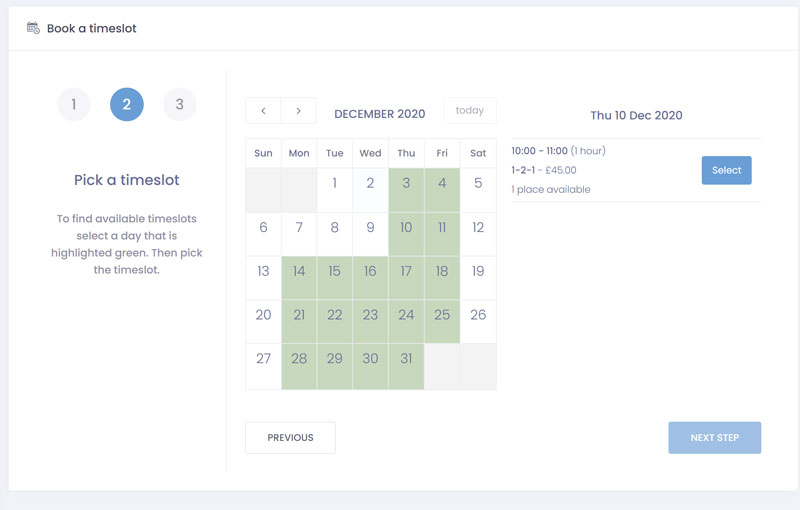 STEP 5 - Payment & Confirmation
Now that you have selected your coach and timeslot, you may be asked to pay for the timeslot or select a payment option. Select how you would like to pay and then hit 'PAY & BOOK'
At this point you may be redirected to a payment screen or you will get confirmation of your booking!

How to cancel a booking
Your bookings are available to view on the same page as the booking wizard above. They can be seen in the "Your Bookings" Panel outlined below in Red:
NOTE: Depending on your screen and resolution of your computer - this panel may be below the Booking wizard.
All Done!
Congratulations! You have just booked a session with your Coach!