Textlocal is a service that allows you to send bulk SMS messages, for as little as 2.5p per text, to your athletes and their parents directly through Coacha.

If you already have a Textlocal account that you want to link with Coacha, log in to your Textlocal account, hover over 'Settings' in the main Textlocal menu and click 'API Keys'.

If you don't have an API Key there, click 'Create New Key' and then 'Save New Key' (leaving the 'IP Addresses' and 'Notes' fields blank).
When you return to the API Key List, you'll see a code there that looks similar to this: 'MM2ERIPE1Wo-LQFROCecIzUpjXk72ENm9PFetpZh68
Copy that code to your clipboard.
Now log in to Coacha, head to 'Broadcasts' and 'Your Textlocal Service'.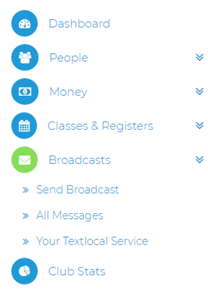 Then click the green 'Link to My Textlocal Account' button.
Now just paste the API Key in the field provided and click 'Continue' when you're done.
You should then a success message, but you'll be unable to send SMS until you have purchased Text Credits from Textlocal.