*Please note - Even though the finances in this section are displayed in GBP(£), the user guide applies to the EU & USA also.*
In order to start taking payments via Coacha, you need to link your Stripe account to your Coacha account so they can speak to each other. This is super easy and takes a few moments.
To get started, make your way to the "Money" section in the main navigation and select "Settings".
Look to the right-hand side of the screen you'll see "Connect to Stripe" under the Stripe heading – click this link to continue.
This will redirect you to Stripe's website. If you already have an account, all you need to do is sign in using your username and password. The link to log in is usually quite small at the top right-hand corner of the page.

If you don't have an account with Stripe, you'll need to create one. To do this, click "Sign Up" and follow the instructions. Once you've done this/logged in via the below screenshot, you'll be good to go and ready to start taking payments through Coacha!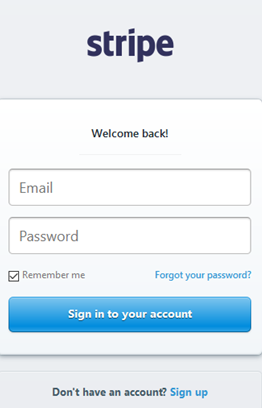 *Top tip for not for profit clubs*
Many clubs we work with are not registered charities, but still run non-for-profit. As there is no option for this within Stripe, the relevant option to select is 'sole trader'.