If you have any additional coaches or assistant coaches within your club, you can grant them access to your Coacha account and assign them their own designated login at no additional cost. This will allow them access to all of the medical information, emergency contact details and coaches notes that have been added to your member profiles should they need them.

To view your coaches, go through the main navigation and to 'People' and then 'Coaches'.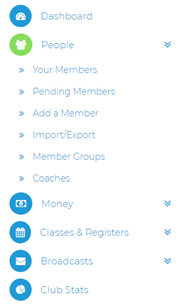 When the page loads, you will see a list of all the coaches with access to your Coacha account. From this screen, you can add a new coach, or edit or delete any existing ones.



To edit a coach's profile, find the coach you need to edit and click 'Profile'.


Then you can work through the fields presented and edit the ones you need to.

You can work through the tabs on the profile to find what you need:



Use the Important Info section to edit personal information.
Use the Medical Notes tab to edit Medical Information – you can also upload waiver documents by clicking the blue ''Upload a Waiver Document' button.


You can manage which Member Group the coach is a part of under the 'Member Groups' tab and also set specific reminders for that coach e.g. remind me when the coach has attended 10 classes.



Last but not least, move onto the 'Coach's Notes & Documents' section, where you can upload details of any qualifications, first aid certificates, and DBS checks, so they can be easily pulled up if ever they're needed. To do this, just click the green 'Upload document (PDF or Ms Word)' button, and find the file on your computer. Then click 'Open' to begin the upload. You can then view all documents on that profile by flicking across to the 'Uploaded' button.


When you're all done, make sure you click 'Save' to update your changes. It's as easy as that.