How to Edit a Coach

If you have any additional coaches or assistant coaches within your club, you can grant them access to your Coacha account and assign them their own designated login at no additional cost.

This will allow them access to all of the medical information, emergency contact details and coaches notes that have been added to your member profiles should they need them. If you want to limit their access to certain members, you can do that too.

To view your coaches, go through the main navigation and to 'People' and then 'Your Members'.~


Head to the 'Coaches & Admins' tab.



When the page loads, you will see a list of all the coaches with access to your Coacha account. From this screen, you can add a new coach, or edit or delete any existing ones.



To edit a coach's profile, find the coach you need to edit and click 'View profile'.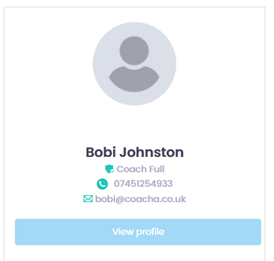 Then you can work through the fields presented and edit the ones you need to.

You can work through the tabs on the profile to find what you need:


Use the Important Info section to edit personal information.
Use the Notes tab to edit medical information.
Use the Data & Documents tab to manage consent, waiver forms/T&Cs and upload any documents related to the member.
Editing permission
To change the type of account the coach has, head to 'Permission' at the top of the screen & select an option.

Admin – Access to all Coacha features (the club owner still holds the ultimate level of control)
Coach Full – Access to all Members, Classes & Registers
Coach Limited – Access to the Members, Classes & Registers they are assigned to (via Classe
When you're all done, make sure you click 'Save' to update your changes. It's as easy as that.