*Please note - Even though the finances in this section are displayed in GBP(£), the user guide applies to the EU & USA also.*
Want to make note of a new medical condition or update a telephone number? Easy. Instead of sending your member off to re-complete an abundance of paper records, wouldn't it be much quicker just to update their Coacha profile? We thought so to.
To edit a member profile, you'll need to access your member list and find the relevant profile. Click 'profile' to open the full profile of the member you need to update and then you can start editing the relevant fields.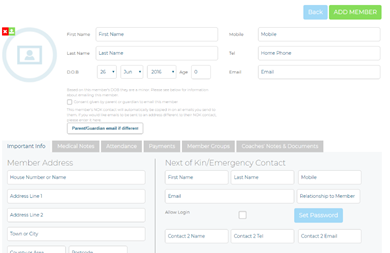 Work your way through the tabs in the grey banner to add the appropriate information.


Uploading a Photo
To add a picture to a member profile, click the green button next to the image icon and select a file from your computer.


Changing Personal, NOK and Contact Details
This information can be changed in the first tab named 'Important Info'.



Adding Medical Information
This information can be added in the 'Medical Notes' tab. You can also upload documents here by clicking 'Upload a Waiver Document' and allow members to virtually sign them.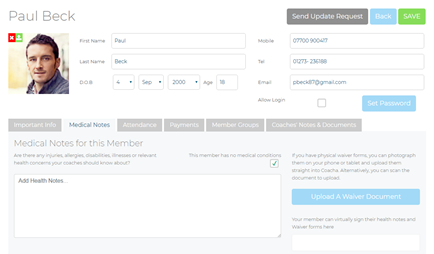 Attendance
You can head to the 'Attendance' tab to see individual attendance statistics for this specific member.

Viewing Payment History
You can view a member's payment history by heading to the 'Payments' tab.



Assigning a Member Group
If your club caters for more than one discipline level (e.g. 1st and 2nd teams in football, or belt grades in Karate) you should assign your members to different groups to make them manageable. Head to the 'Member Groups' Tab and tick the box of the Member Group you'd like to assign them to, or click 'Add New' to add a new group.


Assigning a Class
Need a member added to an existing class? Head to the 'Attendance' Tab and the 'Add this member to a class' section, choose the class from the drop down and then click 'add'. This will make them appear in all future registers for that class.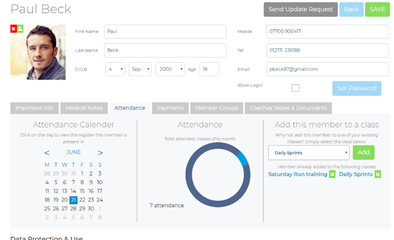 Adding Coach's Notes and Documents
If there is a shining star among you, or maybe if one of your members needs a little encouragement, you can easily let the other coaches in your club know by adding a note to the member's profile. This can be seen by any coach that logs in to your club's Coacha account. Go to the Coach's Notes tab and type the required note in the text box, clicking 'add note' when done.
If a member has earned a certificate or requires a doctor's note, you can upload it as a PDF file or Microsoft Word document to their member profile. Head to the 'Coach's Notes & Documents' tab, click 'upload document', select a document and away you go.
Then when you're finished, just make sure you hit 'Save', and your changes will be updated immediately. Easy as that.
Be aware that coach's notes are subject to instant data download under GDPR in the Member Portal.



Safeguarding Notes
If your note is regarding safeguarding and you do not want it to be subject to instant data download, tick the box that asks 'Is this a safeguarding note?' – This will prevent downloading by members/parents.




GDPR Consent
There are GDPR consent options that need to be completed in order to hold your member's information within Coacha. If you have verbal consent, you can update them yourself. The first 2 options need be selected in order for you to hold their information under GDPR.*
*Please note – these preferences can also be updated by the member themselves in the Member Portal, or initially on the member signup form.


How to Set a Reminder Alert
You can also set specific, personalised reminders for a member in the 'Member Groups':