Setting up classes/events in Coacha ensures your other coaches know their commitments well in advance – no more confusion or cancellations, just all of your coaches in the right place at the right time.
 To add a new event, head to 'Classes & Registers' in the site's main navigation and select 'Add Class or Event' from the dropdown menu.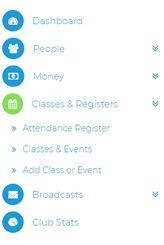 Give the class a name and description. Then, set a date and give the event a start and finish time.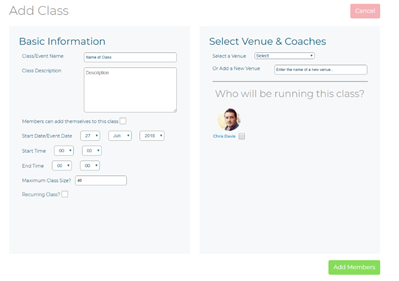 Then you'll need to assign a coach to take your event and a venue where the event is taking place. Select a venue by clicking the drop down or create a venue by entering the name of the venue in the 'Add a New Venue' field.

Add an existing coach to the class by clicking the plus sign on their profile (click again to remove). If you want to assign a coach you've not yet created in your Coacha account head to People > Coaches through the main navigation and add a new coach. Or alternatively you can quick-add a coach there and then.


Then continue by clicking 'Add members'.


Then it's time to add in your members. To do this, either click the "+" signs on the member profiles at the bottom of the page or use the search function to find members by first/last name or by the team they are part of.


When your search returns its results, you can add players by clicking the plus sign on their profile, or by clicking the '+ Add All' button. If you need to remove a member from the list, you can either 'Remove All', or delete on an individual basis by clicking the tick sign on the member profile.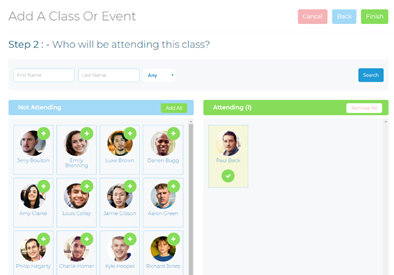 When all of the relevant members have been added, just click 'Finish' and you're done! You'll be redirected back to the 'Manage Classes' page, where you will see a list of all of your upcoming classes and events, including the one you have just created.