*Please note - Even though the finances in this section are displayed in GBP(£), the user guide applies to the EU & USA also.*

There are 2 ways in which you can print a receipt for a member. The first is by heading to Money and Money Dashboard in the main navigation.
Find the appropriate member by searching through the list, conducting a search using the blue search bar or by using the filters provided.
Once you've found the member and the correct transaction, you'll see 'receipt' in blue on the far right-hand side which you can click.


You'll then see the receipt details, you can click 'print' in the top right-hand corner to print it for the member.


The second way is the same process, you just get there differently. If you're needing to pring a receipt for a specific member, you can head to People and Your Members in the main navigation.
Find the member by scrolling or searching for them.

Click 'Profile'.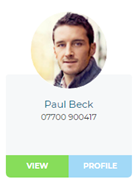 Switch to the 'Payments' tab.
Click 'receipt' to the far right of the appropriate transaction and repeat the above process to print.