*Please note - Even though the finances in this section are displayed in GBP(£), the user guide applies to the EU & USA also.*
Not only does Coacha make taking weekly, monthly and yearly subscriptions a doddle, it also enables you to take one-off payments for things like Christmas parties/uniform payments in just a couple of clicks.

To get started, first make sure that you have linked Coacha to your Stripe account. Then head over to 'Money' and 'Money Dashboard' through the central navigation.
Select "One-Off Payment" from the quick links.

Head to the middle box entitled 'One-Offs'.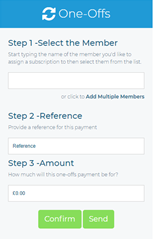 Start typing the name of the member you'd like to take a payment from and select them from the list.

Type a reference to refer to.

Enter the payment amount.
To take the payment there and then, click 'Confirm', read over the summary and then click 'pay by card'.
Enter the member's card details then click 'Pay'.

To add more than one member to a one-off payment request, select 'add multiple members'.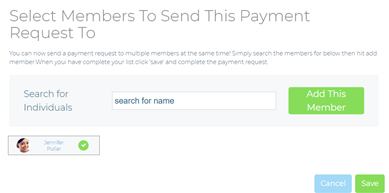 Start typing the name, select them from the list and click 'add this member'. When you've added all members, click 'save'.
To send a payment request to the member's email, click 'send'.